Abstract
This paper presents the influence of partial replacement of bentonite by silica fume which is used in the manufacture of Geosynthetic Clay Liner (GCL). Geosynthetic Clay Liners consist bentonite (Sodium Based) sandwiched between two geotextile. Benotinite, having low permeability imparts better hydraulic performance to the GCL to act as liner. In this investigation, an attempt has been made to study the hydraulic conductivity of GCL with modified Bentonite. The bentonite is partially replaced by silica fume, a waste product of ferroalloy industries. Silica fume reduces the cracking characteristics of bentonite on desiccation. The replacement levels varied from 0% to 50% at a gradual increment of 5%. The test results indicated that partial replacement of bentonite by silica fume did not affected the permeability of bentonite even at 30%. Beyond 45% replacement levels the bentonite- silica fume mixtures showed increased permeability. This increased permeability also well within permeability limits of liners 1×10-9 m/sec.
Keywords
Geosynthetic Clay Liners - Permeability-waste management
DOI:
https://doi.org/10.4090/juee.2013.v6n2.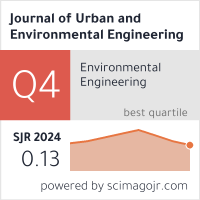 ISSN 1982-3932
DOI: 10.4090/juee


Sponsor: