ANAEROBIC EFFLUENT POST-TREATMENT APPLYING PHOTOLYTIC REACTOR PRIOR TO AGRICULTURAL USE IN BRAZILIAN'S SEMIARID REGION
Abstract
This work applied a Compact System consisting of a Reactor Up flow Sludge Blanket (UASB) in conjunction with s Submerged Anaerobic Filter containing polyurethane cubes as support media, followed by a Solar Photolytic Reactor. The compact anaerobic system produced a clarified effluent with low concentration of organic matter, especially dissolved (20 mg .VSS/L), and free of helminthes eggs. These low concentrations of suspended solids facilitated photolytic disinfection process producing a good quality final effluent, of which 90% of the samples were thoroughly disinfected, while the other fraction showed concentration of Thermotolerant Coliform (TTC) at or below 100 CFU/100 mL and high concentrations of nutrients (48 mg . NH4+-N/L and 6,4mg PO4-3-P/L) enabling the use of irrigation for productive purposes. Another advantages of the compact anaerobic treatment consisted of low sludge production, and relatively simple operation without energy consumption. These advantages results in a significant reduction in operational costs of sewage treatment, and, indeed, an outlet for developing countries in tropical climate.
Keywords
Anaerobic System; Post-treatment; photolytic reactor; Removal of Pathogenic Organisms
DOI:
https://doi.org/10.4090/juee.2013.v7n1.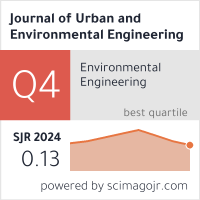 ISSN 1982-3932
DOI: 10.4090/juee


Sponsor: