URBAN CITIES AND WASTE GENERATION IN DEVELOPING COUNTRIES: A GIS EVALUATION OF TWO CITIES IN BURKINA FASO
Abstract
Cities in developing countries are faced waste management challenges in terms of quantity and quality. Most of the time, solid and liquid wastes are dumped on street and open spaces. Uncontrolled waste dumped has led to diverse kind of health problems. The purpose of this article is to characterize urban cities and evaluate their waste generation using the Geographical Information System (GIS). The focus is on two cities in Burkina Faso. Specific variables which were considered during the survey include urban fabric, grey water outlets and household garbage dumps sites/techniques. The study shows that in the two cities, the most dominant urban fabric is low standard of living (about 64% of housing in Fada and 62% of housing in Pouytenga). The urban fabric is also characterized by the existence of empty spaces. Overall, the average density of grey water discharge points is 0.85 points and 5.7 points per ha of street in Fada N'Gourma and Pouytenga respectively. The average density of solid waste dumps is 1.45 waste dumps per ha street and 7 waste dumps per ha street in Fada N'Gourma and Pouytenga respectively. In case of urgent waste management intervention, the priority areas for speedy intervention are area 10 in Fada N'Gourma, areas 2 and 5 in Pouytenga. GIS applied to waste management can be a decision making tool for urban planners in developing country.
Keywords
Developing countries, Discharges, Fada N'Gourma, GIS, Pouytenga, Wastes
DOI:
https://doi.org/10.4090/juee.2013.v7n2.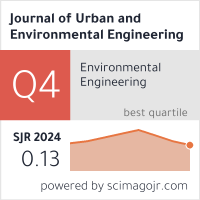 ISSN 1982-3932
DOI: 10.4090/juee


Sponsor: