PERFORMANCE ANALYSIS OF A HELICAL SAVONIUS ROTOR WITHOUT SHAFT AT 45° TWIST ANGLE USING CFD
Abstract
Helical Savonius rotor exhibits better performance characteristics at all the rotor angles compared to conventional Savonius rotor. However studies related to the performance measurement and flow physics of such rotor are very scarce. Keeping this in view, in this paper, a three dimensional Computational Fluid Dynamics analysis using commercial Fluent 6.2 software was done to predict the performance of a two-bucket helical Savonius rotor without shaft and with end plates in a complete cycle of rotation. A two-bucket helical Savonius rotor having height of 60 cm and diameter of 17 cm with 45° bucket twist angle was designed using Gambit. The buckets were connected at the top and bottom circular end plates, which are 1.1 times the rotor diameter. The k-ε turbulence model with second order upwind discretization scheme was adopted with standard wall condition. Power coefficients (Cp) and torque coefficients (Ct) at different tip speed ratios were evaluated at different rotor angles. From the investigation, it was observed that power coefficient increased with increase of tip speed ratio up to an optimum limit, but then decreased even further tip speed ratio was increased. Further investigation was done on the variations of Cp & Ct in a complete cycle of rotation from 0° to 360° in a step of 45° rotor corresponding to the optimum tip speed ratio. The value of Cp at all the rotor angles is positive. Moreover, velocity magnitude contours were analyzed for each rotor angle and it could be concluded that high aerodynamic torque and power can be expected when the rotor is positioned at 45º & 90º with respect to incoming flow.
Keywords
Two-bucket helical Savonius rotor, tip speed ratio, power coefficient and torque coefficient.
DOI:
https://doi.org/10.4090/juee.2013.v7n1.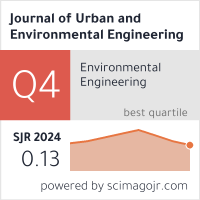 ISSN 1982-3932
DOI: 10.4090/juee


Sponsor: