RETROFITTING OF REINFORCED CONCRETE BEAMS USING FIBRE REINFORCED POLYMER (FRP) COMPOSITES – A REVIEW
Abstract
Rehabilitation and strengthening of old structures using advanced materials is a contemporary research in the field of Structural Engineering. During past two decades, much research has been carried out on shear and flexural strengthening of reinforced concrete beams using different types of fibre reinforced polymers and adhesives. Strengthening of old structures is necessary to obtain an expected life span. Life span of Reinforced Concrete (RC) structures may be reduced due to many reasons, such as deterioration of concrete and development of surface cracks due to ingress of chemical agents, improper design and unexpected external lateral loads such as wind or seismic forces acting on a structure, which are also the reasons for failure of structural members. The superior properties of polymer composite materials like high corrosion resistance, high strength, high stiffness, excellent fatigue performance and good resistance to chemical attack etc., has motivated the researchers and practicing engineers to use the polymer composites in the field of rehabilitation of structures. This paper reviews fourteen articles on rehabilitation of reinforced concrete (RC) beams. The paper reviews the different properties of Glass Fibre Reinforced Polymer (GFRP) and Carbon Fibre Reinforced Polymer (CFRP) composites and adhesives, influence of dimensions of beams and loading rate causing failure. The paper proposes an enhanced retrofitting technique for flexural members and to develop a new mathematical model.
Keywords
Flexural Strengthening; CFRP; GFRP; Epoxy Resins
DOI:
https://doi.org/10.4090/juee.2013.v7n1.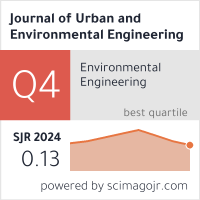 ISSN 1982-3932
DOI: 10.4090/juee


Sponsor: