EFFECTIVENESS OF WASTE STABILIZATION PONDS IN REMOVAL OF LINEAR ALKYL BENZENE SALFONATE (LAS)
Abstract
Detergents contain synthetic or organic surface active agents called surfactants, which are derived from petroleum product precursors. They have the common property of lowering the surface tensions of water thus allowing dirt or grease adhered to various articles to be washed off. Linear alkyl benzene sulfonate (LAS) is an anionic surfactant most commonly used. Discharge of raw or treated wastewater containing this chemical into the environment causes major public health and enviromental problems. In this study, samples were taken from the raw wastewater and effluents of treatment ponds of Elzaraby waste stabilization ponds over a period of one year. The treated effluent is either discharged into surface waters or reused for agricultural irrigation. The samples were analyzed according to the standard methods. The results obtained from the samples taken in different seasons showed that the highest overall removal efficiency of LAS was achieved in the summer season (77%), and the least efficiency observed in the Winter season (55%), while the maximum overall efficiency of BOD5 was in summer (88%) and minimum efficiency was (73%) in winter season. The Dissolved oxygen concentrations along the pond series (DO) ranged between 0.18 to 4.8 mg/l.
Keywords
wastewater treatment, waste stabilization ponds, surfactant, Linear Alkyl Benzene Salfonate (LAS).
DOI:
https://doi.org/10.4090/juee.2013.v7n1.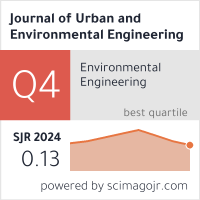 ISSN 1982-3932
DOI: 10.4090/juee


Sponsor: