PROPOSAL AND ANALYSIS OF ENVIRONMENTAL FRAGILITY MODEL USING MULTICRITERIA ANALYSIS AND FUZZY LOGIC FOR INTEGRATED LANDSCAPE MAPPING
Abstract
Geographic Information Systems are able to represent and interpret the Landscape, and with greater possibilities using Integrated Analysis, however, there is not only a technical need but also methodological to achieve this in the computational field. Thus, the maximum consolidated stating that geometries are not geographies needs to be more than simply verifying the limitations inherent in Computer Modeling, analyzing and proposing methodologies that overcome the paradigm of overlapping layers, the initial loss of complex integration and inseparability of criteria and factors for Environmental Analysis. The present work, based on ecodynamics and the empirical analysis of the fragility of the natural and anthropogenic environments, proposes and submits an Environmental Fragility Model integrated into the paradigm of Multicriteria Analysis and Fuzzy Logic. The case study is part of the Monjolinho Basin in São Carlos – SP, Brazil. The use of this methodology enabled to decrease the influence of decision-making criteria, in which the factors embodied their cartographic expression, respecting the integrated landscape complex.
Keywords
environmental fragility; multicriteria analysis; geographic information systems
DOI:
https://doi.org/10.4090/juee.2013.v8n1.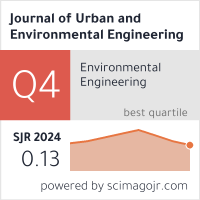 ISSN 1982-3932
DOI: 10.4090/juee


Sponsor: