Abstract
The production of waste by the tire industry has been a growing problem, indicating the need for its reuse. More than thirty million of tires are discharged per year in Brazil, where regulation for the environment states that for each four new tires, five unusable ones must be adequately disposed by manufacturers and importers. Paving consumes an extremely large quantity of materials, which can be the source of rational application of waste and rejected materials. Research shows that tire rubber can be added to asphalt, which increases its durability and improves pavement quality and safety conditions by absorbing the rubber elastic properties, and also be used for architectural applications, among others. This study deals with the addition of rubber fibers from tire crushing in concrete for roadway pavements in order to provide proper indication about the alternative material disposal through an evaluation of the mechanical behavior of the modified concrete. Different concrete traces were produced, within which part of fine aggregates were substituted by tire rubber and mechanical experiment testing were performed, which show that, due to great resistance losses and operational problems, the disposal of this alternative material in concrete for pavements is not recommended.
Keywords
reuse; tire rubber; pavements; concrete; mechanical behavior
DOI:
https://doi.org/10.4090/juee.2013.v3n2.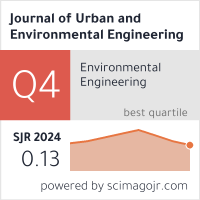 ISSN 1982-3932
DOI: 10.4090/juee


Sponsor: