Abstract
This study analyzes the effects of unserviceable tire residues on rendering mortar using lime and washed sand at a volumetric proportion of 1:6. The ripened composite was dried in an oven and combined with both cement at a volumetric proportion of 1:1.5:9 and rubber powder in proportional aggregate volumes of 6%, 8%, 10%, and 12%. Water exudation was evaluated in the plastic state. Water absorption by capillarity, fresh shrinkage and mass loss, restrained shrinkage and mass loss, void content, flexural strength, and deformation energy under compression were evaluated in the hardened state. There was an improvement in the water exudation and water absorption by capillarity and drying shrinkage, as well as a reduction of the void content and flexural strength. The product studied significantly aided the water exudation from mortar and, capillary elevation in rendering.
Keywords
dry ripened mortar; tire residues; capillarity; drying shrinkage.
DOI:
https://doi.org/10.4090/juee.2013.v3n2.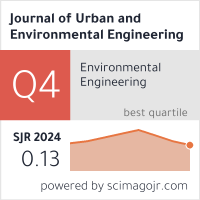 ISSN 1982-3932
DOI: 10.4090/juee


Sponsor: