OPERATIONAL PERFORMANCE OF VERTICAL UPFLOW ROUGHING FILTER FOR PRE-TREATMENT OF LEACHATE USING LIMESTONE FILTER MEDIA
Abstract
This study was conducted to investigate the removal of COD, BOD, turbidity and colour from leachate using vertical upflow filtration technique. Limestone media with a density of 2554kg/m3 was crushed and graded in sizes of 4-8 mm, 8-12 mm and 12-18 mm. Trial runs were done before the main experiment at an interval of 24 h analysis. Leachate was between pH 7.94 to 8.12 before experiments but increased to pH 8.42 after the filtration process. Maximum headloss at steady flow rate 20mL/min was 0.5 cm. The optimum treatment was achieved with 4 – 8 mm, 8 – 12 mm & 12 – 18 mm media size in combination and removal efficiency was 22 to 81 %, 22 to 75 %, 32 to 86 %, and 36 to 62 % for BOD, COD, turbidity and colour respectively. Vertical upflow roughing filter can be used for pre-treatment of leachate before further treatment.
Keywords
Limestone; vertical upflow roughing Filter; leachate; landfill.
DOI:
https://doi.org/10.4090/juee.2013.v7n1.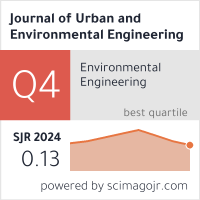 ISSN 1982-3932
DOI: 10.4090/juee


Sponsor: